ARAMBOA – MEREON MATRIX
Debut-Album Release Date May 18 2017
CD & Download (Gergaz Records)
Live Album Release Party May 18 2017 Fledermaus Vienna http://www.fledermaus.at/
(deutsche fassung siehe weiter unten … )
Downbeat, Triphop, IDM, Neo-Soul, Bass Music, Dupstep, Jazz – that are all insufficient terms, if you want to describe the sound of Aramboa. The real essence of the musical style the austrian producer Moritz Scharf aka Momo Safi and vocalist Elena Shirin want to create is the fusion of these characteristic elements. Energetic and complex beat-structures build the foundation for hypnotic and expressive harmonies of analogue and synthetic instruments, wich circulate around the subtile but still powerful performance of the vocal tracks. Although their debut album's sound is of a distinct electronic character, Aramboa`s live-performance is substantially driven by keyboard, guitar, trumpet and the acoustic colours of live-bassoon.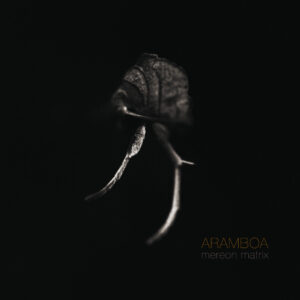 You might have heard some of their tracks under the name "Black Lotus Experiment" already, an earlier name of this project. Even without releasing a record so far Aramboa already gained a big fanbase through several live-shows. Over 1000 likes on Facebook for a new viennese music project is quite a strong statement, even though their sound pushes the boundaries of what we know as pop music.
So far Aramboa played at Waves Festival, Tallinn Music Week, Donaukanaltreiben, Fluc, Cafè Leopold, Grelle Forelle, Stadtwerkstadt Linz, WUK, Jazz:it, Arge Salzburg, Madhou5e Linz, Brimbamborium Festival in Munich and a lot more venues.  One of their earlier releases as Black Lotus Experiments, the track "YRSLF", was features as a free download on FatKidOnFire, a london-based Bassmusic-Blog, and quickly reached over 10.000 listeners. Now Aramboa has big plans for the future. The first step ist the release of their 10-track-debut-album "Mereon Matrix" on Slovakias Gergaz Records in May 2017.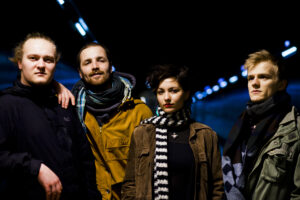 Instrumentation:
Electronics, Gitarre:  Moritz Scharf
Vocals: Elena Shirin
Keys, Trumpet: Lukas Moser
Bassoon: Andreas Stocker
Production: Moritz Scharf | Lyrics: Elena Shirin
Official Music Video for "Road" by Aramboa, from the Album "Mereon Matrix"
Official Music Video for "21 Grams" by Aramboa (here credited with their now abandoned bandname "Black Lotus Experiment):
https://www.facebook.com/aramboaofficial/
https://soundcloud.com/aramboa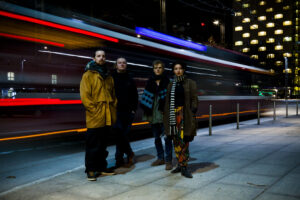 Downbeat, Triphop, IDM, Neo-Soul, Bass Music, Dupstep, Jazz – das sind alles nur unzureichende Begriffe, wenn es um einen Erklärungsversuch der Musik von Aramboa geht.  Die wahre Essenz der Zusammenarbeit von Produzent Moritz Scharf alias Momo Safi und Sängerin Elena Shirin liegt in der charakteristischen Verschmelzung dieser Stile – Energetische und detailreiche Beatstrukturen bilden die Grundierung für hypnotische und mäanderne Harmonien analoger und elektronischer Instrumentierungen, die wiederum das Fundament für die kraftvolle und gleichzeitig subtile Präsenz der Vocal-Tracks bilden. Obwohl das erste Studio-Album auf elektronisches Sounddesign setzt, werden die Tracks auf der Bühne mit Keyboard, Gitarren, Trompeten und Fagott-Sounds erweitert und in ein packendes als auch virtuoses Ritual verwandelt.
Vielleicht hat man den ein oder anderen Track dieser Konstellation schon unter dem früheren Namen "Black Lotus Experiment" zu hören bekommen und obwohl sie bisher noch keinen Tonträger veröffentlicht hatten, konnte Aramboa bereits eine große und begeisterte Fangemeinde mit umjubelten Live-Gigs erspielen. Über 1000 Likes auf Facebook für ein erst seit wenigen Jahren aktives Projekt sprechen eine deutliche Sprache – zumal die Musik von Aramboa gerne auch in dunkle und beschwörende Gefilde abtaucht, dabei aber immer dynamisch und mit einer ordentlichen Portion Groove ausgestattet wird.
Unter den bisherigen Gigs zählen unter anderem Auftritte beim Waves Festival, Tallinn Music Week, Donaukanaltreiben, Fluc, Café Leopold, Grelle Forelle, Stadtwerkstadt Linz, WUK, Jazz:it, Arge Salzburg, Madhou5se Linz, Brimbamborium Festival in München und etliches mehr. Ihre raren Veröffentlichungen beinhalteten unter anderem den Track "YRSLF", ein noch unter "Black Lotus Experiment" veröffentlichter Track, der als free download via dem Londoner Bassmusic-Blog FatKidOnFire sehr rasch die Marke von 10.000 Listeners überstieg.
Nun folgt mit dem ersten Album der Aufstieg in den nächsten Level  für Aramboa: Aus der über die Jahre angewachsenen großen Zahl an Tracks und Songs wurden nun 10 Stücke für "Mereon Matrix" ausgewählt, darunter die Live-Favourites "Zora", "Road", "Mereon Matrix" und "Lockdown". "Mereon Matrix" erscheint auf dem slovakischen Label Gergaz Records.
"Das Wort Aramboa ist mir eines Morgens als einzige Erinnerung an einen ziemlich schrägen Traum geblieben,  den ich vor mittlerweile 4 Jahren hatte.",  erklärt Moritz Scharf den Hintergrund des Namens und führt weiter aus: "Und eine Mereon Matrix ist eine geometrisch harmonische Matrix, ein Impulse/Response-Schema das durch Musik sichtbar werden kann, wenn zum Beispiel Schallwellen auf Wasser treffen.  Dieses Reaktionsmuster ist formgebend für biologische Prozesse und beschreibt wie Frequenzen unsere Umgebung permanent verändern."