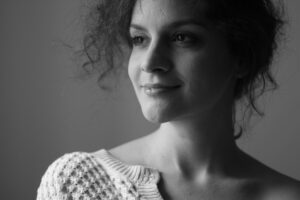 We proudly presents another addition to our artist roster with the wonderful singer, pianist, composer, writer and theatre director Andrea Bučko.
Andrea Bučko studied Theater Directing at the Academy of Performing Arts in Bratislava but at the moment she devotes most of her time composing her own songs and playing
the piano as well as singing.
She has already released two original CDs ("In The Middle Of…" (2012) and "Polarity" in 2015) in cooperation with celebrated slovak harpist Mária Kmeťková, produced by Maroš Hečko and Adam Kurutz. Both her albums have been critically acclaimed in Slovakia and France.
Andrea already presented her work all over Europe and, of course, especially in her native Slovakia. She played several festivals in Slovakia (Jazz Days Bratislava and Znojmo, Kitzee Tanz Festival, Pohoda Festival, Radiohead Awards festival, TEDx Bratislava, …), Fête de la musique in Paris, Royal parc festival Brussels, MEA Jazz festival in Mealhada and many more.
She also created music for various theatre productions and directed and worked on several theatre plays in Bratislava, Martin and Paris. Andrea mixes jazz, alternative pop, soul and world music. Her lyrics (in english, french and slovak) reflect the sensitivity and temperament of her original compositions.
*exclusive prelistening*
listen to "1000 Years", taken from the upcoming album "Escape" out on march 31st on blankTON recordings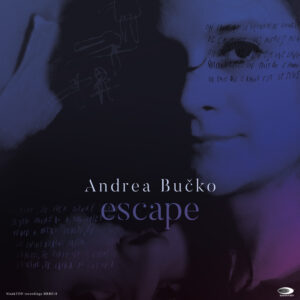 "Escape" is named after a poem by Emily Dickinson that also inspired Andrea for the songs of her new album. During the time she spent in Paris, she felt that almost everyone she met was trying to escape from something, mostly from war – be it the ghostly war in their own hearts or the very real war in the Middle East. Andrea cooperated with several refugees from the countries of Middle East in her work, "All of us there in Paris were refugees, but everybody was trying to escape from something different. The people who really lived through the war taught me lot about life and gave me a totally new orientation in life. Their strength, their will, all the stories of loss and unfulfilled dreams, of searching love and peace inside them, of avoiding predjudices and encountering hate are strongly present in my work".
 ~ Album Release Concerts:
march 24, Bratislava Luna Bar
april 5, Vienna 1019 Jazzclub
"Escape" is a very intimate confession of a young woman touched deeply with the parisian spirit of romantic melancholy under the stark light of living with refugees – mixed with the slovak temperament and compassion she was born with. The album was recorded using mainly accoustic instruments such as harp, violloncello, accordion or double bass. Often the songs were composed on the spot during those sessions in a very sincere, spontaneous way with an underlying impressionistic intent.
And also thanks to the residency at Cité Internationale des Arts Andrea cooperated with brasilian artist Helio Flanders (of the very popular brasilian band Vanguart). They toured together and recorded a duet in the process, "When Our Voices Match (Touch Me)". Andrea comments on the tender lovesong: "It´s one of the more romantic and lights songs on the album which connects people from the two edges of the world. Many of my songs mention distances between two people – always in a different meaning… predjudices, different cultures, different emotions or just a real geographical distance that divides people who feel they don´t want to be distant to each other. The longing to connect is reflected in this song."
"When Our Voices Match (Touch Me)" will be released as a single before the release of the full album.

Andrea Bučko on Facebook
Andrea Bučko on Soundcloud
Andrea Bučko on Youtube
for all inquiries regarding Andrea Bučko please contact bureau[at]blankton.org