COLLAPSING NEW PEOPLE
(deutsche fassung weiter unten)
Collapsing New People is an Austrian electropop-band founded in 2002 by Cy, Didi Disko and Loona Cox in Vienna. For more than a decade the band had been a constant force in the Austrian music scene, especially embraced for their energetic live sets and uncompromising musical style with lots of fans all over Europe, especially in Germany, Switzerland and Belgium.
The bands eventful history is rich in praise from media and various audiences, their influences range from postpunk and new wave to funk and electro to synthpop and experimental music. With "Dysfunctional Robots", the band returns after a longer hiatus, now with founding member Cy at the center of all activities. "Dysfunctional Robots" is not just a new album, but also a milestone in the bands' history, a consolidating look back as well as a bold look forward.
Their first album "Concrete View" was released in 2002, recorded and published in full-on do-it-yourself-mode. After a few hitsingles like "Revolution Girl" (Strobelight Records 2003), "Regressive Attack" and "Collapse Collide Capitulate", both from their second album "Collapsing New World" (2005) and some changes in the line up, the band played some remarkable live gigs like headlining the Fake-festival in Nancy in 2006, playing New York City and Budapest in 2009 and the Big Brother Awards in Vienna in 2011.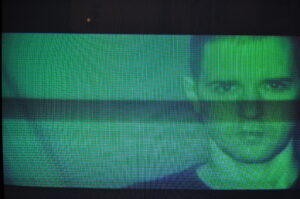 With their third album "Crash Test Junkie" in 2012 (Klanggalerie), the band underwent a consequent development towards electropop but also included elements of funk, triphop and contemporary electronica. Thematical influences ranged from Dada, Art Brut, Film Noir and Science Fiction while a lot of the songs also dealt with personal and socio-critical issues.
The music of Collapsing New People has also always been an inspiration for artists of various fields and were also frequently used as soundtracks for political documentaries.
~ ~ ~
Collapsing New People, die österreichische Elektropop-Institution, wurde bereits 2002 von Cy, Didi Disko und Loona Cox in Wien gegründet. Mehr als ein Jahrzehnt lang waren Collapsing New People eine beständige Größe im heimischen Musikgeschehen, wo besonders ihre energetischen Live-Performances immer bejubelt wurden. Aber auch im restlichen Europa fanden sich ausreichend Fans – speziell in Deutschland, Schweiz und Belgien.
Die Einflüsse der Band reichen von Postpunk über New Wave zu Funk und Synthpop bis hin zu Elektro und experimenteller Elektronik. Mit "Dysfunctional Robots" kehrt die Band nach einer Pause wieder zurück, mittlerweile mit Cy als letztem verbliebenen Gründungsmitglied im Zentrum des Geschehens. "Dysfunctional Robots" ist auch nicht einfach nur ein neues Album, sondern vielmehr ein konsolidierender Blick zurück und ein mutiger Schritt nach vorne.
Ihr erstes Album "Concrete View" erschien bereits 2002 und war komplett in Eigenregie aufgenommen, veröffentlicht und vertrieben worden und der Erfolg durchbrach alle Erwartungen. Nach einigen Hitsingles wie "Revolution Girl" (Strobelight Records 2003), "Regressive Attack" und "Collapse Collide Capitulate", die beiden letzteren von ihrem zweiten Album "Collapsing New World" (2005), ergaben sich einige Änderungen im Line Up und man spielte einige mittlerweile legendäre Gigs wie den Headliner-Slot beim Fake-Festival in Nancy (2006), eigene Shows in New York City und Budapest in 2009 sowie die Big Brother Awards in Wien 2011.
Seit ihrem letzten Album "Crash Test Junkie" (Klanggalerie, 2010), entwickelte sich die Band konsequent in Richtung Elektro-Pop mit Einflüssen aus Funk, Triphop und Elektronika. Die thematischen Einflüsse beinhalten mittlerweile Dada, Art Brut, Film Noir und Science Fiction, während viele Songs sich auch mit persönlichen, aber auch mit sozialkritischen Themen beschäftigen.
Die Musik von Collapsing New People war immer auch eine Inspiration für andere Künstler und wurde auch oft als Soundtrack, vor allem für politische Dokumentationen verwendet.