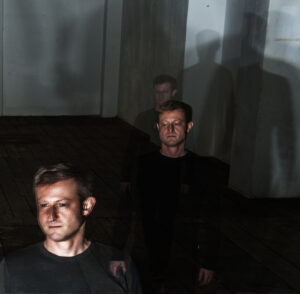 Growing up in a family of passionate music enthusiasts, Mikka Blank was exposed to a wide range of musical influences, including Hendrix, Kraftwerk, Doors, Pink Floyd, The Beatles, and Rare Earth. He experimented with various instruments before finally falling in love with a Roland SH1000 synthesizer, which he taught himself how to program. In addition to this, he also took drum lessons to enhance his musical skills. Using a makeshift crude mixing desk and his Roland SH1000, he created his first release at the age of 16: "The Terms Of Trade", a cassette-only release that was limited to only 20 copies. The release consisted of three long pieces of layered patterns, reminiscent of the pioneers of industrial and minimal music. Unfortunately, these pieces have been lost over time.
At the same age, Mikka started organizing parties and DJing with friends, using two home-hi-fi setups due to the lack of proper equipment. In his mid-twenties, he began working in the music industry, where he learned about profound producing methods and eventually resumed his passion for producing music. His love for creating non-music eventually led to his second proper release, which was two abstract Christmas carols under the moniker of "Pointblank" on the short-lived Styrian label Mrs. Lee.
While producing sound design for websites, Mikka's unused material became the foundation for another project, the "Kung Fu Divas," together with fellow producer Supersultan, also known as Alec Bronski. This collaboration sparked Mikka's ambition to produce original new material, which eventually led to the launch of his label blankTON recordings in 2013. Since then, a steady flow of material has emerged from this outlet, with a sound that encompasses IDM, Ambient Dub, Industrial, Krautrock, and more.
As of this writing, Mikka has released two albums under his name, and a third album is currently in the works.
https://www.blankton.org/product-category/mikka-blank/
https://mikkablank.bandcamp.com
https://spotify.com/mikkablank
https://www.facebook.com/mikkablank
http://www.play.fm/artist/mikkablank
Discography:
"Into The Void" on Eight Years of blankTON recordings (CD/Download 2022)
On A Mission EP feat. Mista Chatman (9tr Download EP 2017)
Liquid Radio EP (4tr Download 2016)
Liquid Radio Session (continuous one hour mix, Download 2016)
Phantom Island : The Cay Taylan Remixes (4tr Download 2016)
The Interzone Reacts (10tr CD Album, 12tr Download, 2015)
Camaro EP feat. Sanna-Pirita (3tr, Download 2014)
Interzone Reaktor (11tr CD Album, 13tr Download 2014)
Live LDRM Club Vienna August 2013 (continuous one hour live session, Download 2014)
Argos feat. Sanna-Pirita EP (3tr, Download 2013)
Back To Mali EP (3tr, Download 2013)
Dogon Dip Tank (1tr, Download 2011)
as Pointblank – Tannenbaum:Zimmerbrand; Dumpa (both on Mrs Lee Christmas, CD, 2000)
as The Terms Of Trade – The Terms Of Trade (4tr, album, cassette, 1987)
Remixes:
Nicole Jaey & Harry Jen – Ritual Fusion (Mikka Blank Remix) (Download, 2015)
Koenigleopold – Aalfang Remixed (incl Mikka Blank Remix, 2tr Download, 2013)
with the Kung Fu Divas: (catalogue currently unavailable!)
The Kung Fu Divas – Gummi Wummi (1tr Download 2016)
The Kung Fu Divas – The Greatest Hits (CD & Download, 13tr, 2015)
The Kung Fu Divas – Plunderkillaz (EP, Download 2013)
The Kung Fu Divas – Tekk Me (EP, Download 2013)
The Bandaloop – Shake Em (The Kung Fu Divas Booty Shaker Dub) (EP, CD, Download 2012)
UKO – Planet Janet (The Kung Fu Divas Remix) (EP, 12″, Download 2012)
The Fast Forwards – All My Life (The Kung Fu Divas Remix) (1tr, Download 2012)
The Kung Fu Divas – Who Is The KFD (1tr, Download 2011)
The Kung Fu Divas – Chiang Kai Shek Ur Ezz (2tr, Download 2011)
The Kung Fu Divas feat. DJ Collage – The Universalist EP (6tr, Download 2010)
other releases:
Markus Kienzl – Density, CD & Download 2009 (including Markus Kienzl vs. The Kung Fu Divas feat. DJ Collage – The Universalist Rework)
Radio FM 4 Sound Selection 11, 2CD, 2004 (including The Kung Fu Divas feat. DJ Collage – The Universalist (Radio FM4 Edit))
temp~festival 2003 compilation, Download & CD 2003 (including The Kung Fu Divas – KFD Airlines (Rough Demo Version)