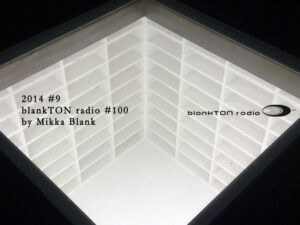 Ladies and gentlemen, this in fact is our 100th broadcast of the blankTON radio show on PLAY.FM – and for this special occasion we just thought we do a run-down of some tracks we already presented in the sow, but that stayed with us, for various reasons. And there is also some news regarding to the host – as for the last 2 years or so, yours truly acted as the main host, but now the duties it will go back to the one and only mister mikeBurns, who so gracefully hosted the show for over 4 years before. But keep your eyes and ears peeled, we will still keep this show in a multifaceted fashion – with mixes by distinguished guests and so on. If you feel like indulging yourself in the full history of all 100 blankTON radio shows, here's the link to the full archive:
http://www.play.fm/radioshow/blanktonradioshow/
So please stay tuned and, as always – turn on, tune in, freak out. Thank you!
But now, without further ado, here's blankTON radio numer 100!

Yours sincerly,
Mikka