Mikka Blank Album Release Party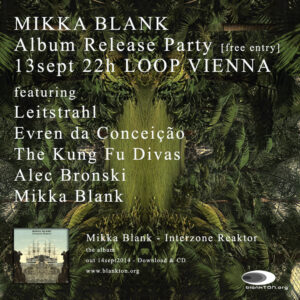 As the first full  length album by yours truly already casts a shadow, we thought it's time to organise a cozy little celebration. So if you are in Vienna on sept 13th, make sure you find your way to the LOOP, not far from viennas city centre and directly located near the subway station U6 Thaliastraße.
The almost incredibly distinguished line-up includes
LEITSTRAHL
EVREN DA CONCEICAO
KUNG FU DIVAS
ALEC BRONSKI
MIKKA BLANK
and maybe some surprise guests, let's see …
We would be happy if you could join our little cocktail party.
Find the event on Facebook here.
Yours sincerly,
Mikka