KOMPOST 3 feat. MIRA LU KOVACS – Anthem (PR-only)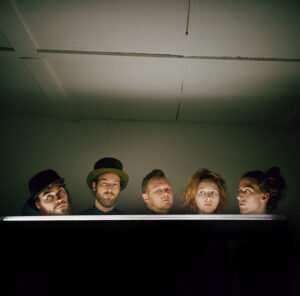 [for english version please scroll down]
KOMPOST 3, die ja eigentlich 4 sind, werden  mit ihrer neuen Single sogar 5.
Die preisgekrönte Jazz-Impro-Groove- Funk-Combo KOMPOST 3 unternimmt gemeinsam mit Mira Lu Kovacs, Sängerin und Komponistin der FM4 Amadeus-Award-Gewinner Schmieds Puls, einen Exkurs in luftigen, cinemaskopischen Downbeat-Pop. Das Stück "Anthem" ist der Auftakt für eine weitere Zusammenarbeit zwischen dem vielseitigen Quartett und der hochgelobten Singer/Songwriterin. "Anthem" erscheint am 19.4. mit Artwork und Stop-Motion-Video von Benny Omerzell, der nicht nur die
Keys bei KOMPOST 3 bedient, sondern auch als Visual Artist aktiv ist.
Die Single erscheint digital und als limitierte 7″-Vinyl–Single. Die B-Seite ziert "Fat People" mit Gastvokalist KŒNIG, der als Lukas König
auch den Drummer von KOMPOST 3 stellt, also eine Kooperation der verschiedenen Identitäten dieses hochkarätig besetzten Fünfers.
Die Single ist überdies Auftakt für mehr Material – ein gemeinsames Live-Set existiert bereits und wird noch im Frühjahr 2016 zu hören sein, ein gemeinsames Album befindet sich in Arbeit!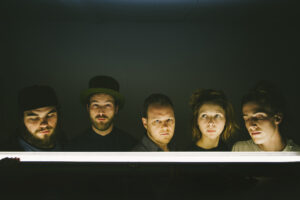 *LIVE DATES*

KONZERTHAUS WIEN
19.9. 2016 21 Uhr
https://www.facebook.com/events/1165124233537929/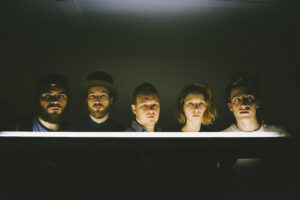 KOMPOST 3, who are actually 4, are upsizing to 5.
The acclaimed jazz/improv/groove/funk combo KOMPOST 3 and Mira Lu Kovacs, vocalist and leader of the Amadeus Award-winning band Schmieds Puls, are making a shared excursion into airy, cinematic, downtempo pop. The new single, "Anthem", heralds a new collaboration between the multifaceted quartet and the celebrated singer-songwriter; it includes artwork and a stop-motion animated video by Benny Omerzell, a visual artist as well as the band's keeper of the keyboards.
The B-side, "Fat People", features guest vocals by KŒNIG–the alter ego of KOMPOST 3 drummer Lukas König. The record drops, digitally and as a limited edition 7-inch, on April 19–a mashup of identities from this fantastic five!