Ambrose Akinmusire – A Rift In Decorum: Live At The Village Vanguard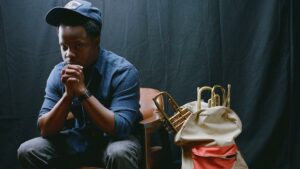 With three highly acclaimed albums under his belt, as well as dozens of acts as a sideman, the Oakland-born Ambrose Akinmusire already is being regarded as one of the most important artists in contemporary jazz. He already won the Thelonious Monk International Jazz Competition, the Carmine Caruso International Jazz Trumpet Solo Competition, two of the most prestigious jazz competitions in the world, as well as the Paul Acket Award at the North Sea Jazz Festival. His style is often referred to as a blend of classical jazz and modernized BeBop or Post Bop with some dots and dashes from avantgarde and free jazz thrown in. Listening can be challenging at times and his music definitely is nothing to do your dishes or perform complex tasks by – it needs attention and rewards it immensely.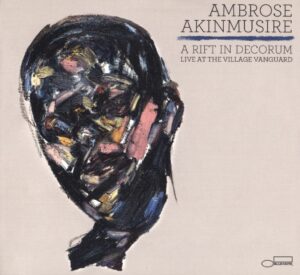 With "A Rift …." Akinmansure presents a recording of a session at the legendary Village Vanguard in Greenwich that is an impressive showcase of his distinctive play that covers all bases and colours without completely clouding his bands' performance. A subtle, but also wild ride for distinguished connaisseurs that will definitely will make a lot of new fans for his music, and maybe modern jazz as well.