Chris Dave and the Drumhedz
A HipHop-album in the blankTON.abo as a follow-up to a compilation of neoclassical music? Sure, why not. I'm sure you like both, just as we do. What follows is taken from the Blue Note Records website and slightly edited, as this original text gives a quite good insight into what this album is all about:
You already know the Drumhedz. You just don't know that you know the Drumhedz.  They've been playing on your favorite albums for years, setting the tone or keeping time at the best shows you've ever seen, quietly stacking Grammys without ever delivering an acceptance speech, and moving onto the next gig with the simple satisfaction of a job well done. They're the session players and the road warriors, or, "Cats that were looked over, but they're bad," in the words of the Drumhedz bandleader Chris Dave, who's drummed for everyone from Adele to Bieber and Dolly to D'Angelo. "They all have stories like mine." Sure enough, the group's self-titled debut LP showcases a family of musicians whose credits coil like ivy around nearly every pillar of modern sound, getting together to do things to music they couldn't on anyone else's project.
"I never knew what it was going to sound like when we all got together," says Chris. "But I could picture it, like, 'This album is gonna take place in a portal. You're getting away from Earth, from all the bullshit. You're safe, but now you're in our world.'"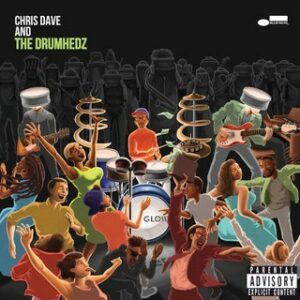 It's a place without genre, where elements of funk, soul, gospel, hip-hop and jazz mix until they're an indistinguishable surging mass of solid groove. But this isn't a jam session and Chris isn't much for solos. His compositions are like his drumming: precise but tweaked just so, syncopated to allow the merging of multiple ideas, and flexible enough to triumph in all manner of tunings. As for this interstellar world's residents, well, how much time do you have? There are nearly 50 Drumhedz in here, spanning core crew like Pino Palladino (bass), Isaiah Sharkey (guitar), Cleo "Pookie" Sample (keys), Sir Darryl Farris (vocals) and Keyon Harrold (horn), to old familiars like James Poyser (The Roots), Stokley Williams (Mint Condition) and Shafiq Husayn (Sa-Ra), to fresh guests like Anderson .Paak, Bilal, DJ Jazzy Jeff and Phonte Coleman. Chris worked on on three Grammy-winning albums across three genres: Maxwell's BLACKsummer'snight, Adele's 21, and the Robert Glasper Experiment's Black Radio. In the personnel credits for those LPs, you'll also find the foundation of the Drumhedz.
"People say you can't have all of these sounds in one place," says Chris, "but how we hear things, it's just music. You like it or you don't. This is a 'why can't you?' album. I always wanted to be in a group," says Chris.
Sure enough the LP opens with a liftoff sequence, gives way to the astral rap of "Universal Language," where KRNDN rhymes and Sy Smith coos, then opens up with "Dat Feelin'," a go-go paced march through the center of the galaxy—you can almost picture space dust and hurtling asteroids as brass blows and drums pop. But despite the celestial bent, these are very human songs. There's .Paak detailing the struggle on "Black Hole," conflicted emotions taking musical form on "Sensitive Granite," the flirty jaunt of "Whatever," and Bilal and Tweet getting their Marvin and Tammi on, in five-four, during "Spread Her Wings." Because for all their otherworldly ability, the Drumhedz are who they are because of connection. At the end of the day, they're the cats who came together. And now that they did, you might be a Drumhed too.
Listen to "Chris Dave Presents The Drumhedz Radio Show" here: