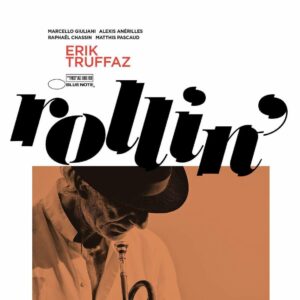 Swiss-born jazz trumpeter Erik Truffaz is is known for his innovative approach to music and his ability to seamlessly blend genres for many years and having a keen eye on sonic discoveries. Truffaz has been hailed as one of the most brilliant musicians of his generation with his style often being compared to that of the legendary Miles Davis.
Truffaz's latest project is a tribute to some of the greatest musical pieces of the golden age of cinema. The album features Truffaz's unique touch on themes from classic movies such as La Strada, L'Ascenseur Pour L'Echafaud, River of No Return, Le Casse, and more. Truffaz's aim with this project was to revisit and pay homage to some of his favorite films and the music that accompanies them.
The album showcases Truffaz's exceptional artistic skills and his ability to breathe new life into old classics. Truffaz's interpretation of the theme from La Strada is a hauntingly beautiful reimagining of the original piece, with Truffaz's trumpet soaring over a minimalist electronic backdrop. Truffaz's version of the theme from Ascenseur Pour L'Echafaud is similarly impressive, with him channeling Davis' over a brooding bassline and sparse drums.
With his signature style and his passion for sonic discovery, Truffaz has breathed new life into some of the greatest musical pieces from the golden age of cinema. For fans of jazz and film music alike, this album sure is something – but of course, not only for them.