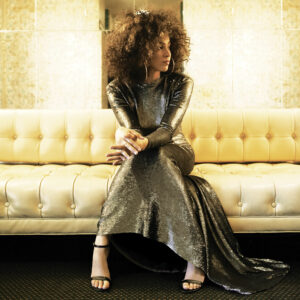 Kandace Springs is not only a new star in the stable of the renowned, but at times a bit dozy, Blue Note Records Label, but also a remarkable and impressive new voice in Soul Music in general. Listening to her music always brings a slight out-of-place or out-of-time effect as she sounds very old school in a way but also very modern at the same time. It's like Billie Holiday or Nina Simone were put in a time machine to record an album with all the technology state-of-the-art-studios offer. Springs is often – and rightly – compared to those singers but she also offers something new and that's the influences that enrichened jazz, blues, soul and pop over the last decades.
Incredibly touching – maybe not with the first listen, but definitely with the second and the third round – the sheer depth of Kandace Springs' performance unfolds with time and tends to stick. And that's a good thing. But not only her incredible voice makes "Indigo" a fantastic album, the wonderful production and instrumentation sits perfectly and neither vanishes in the background or breaks into the foreground – a great example of an album that perfectly captures the spirit of an artist.
We are blown away and hope to catch her live some day.
Find more about her here: http://www.kandacesprings.com/