Sofa Surfers – Scrambles, Anthems and Odysseys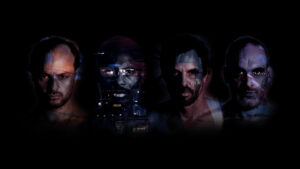 The new, already the eighth, album from viennese outfit Sofa Surfers marks the beginning of a new era in the bands work. The band steps into a new world of sound, harking back to their electronic heritage and pushing away the rockish attitude of the previous three albums. But it is in no way a step back to used formulas – "Scrambles …" sees the band completely reinventing their own trademark style in a purely electronic way, using all the aesthetics the band had created before but adding more layers, some of them hinted at in the past, some completely new. All in all the twelve new tracks breathe an evoking atmosphere of arcane and mysterious soundscapes, a cloaked and outerworldish spirit with a sense of foreboding. Rich, dense and multi-layered, but also straightforward and translucent, the music of the new album is a perfect example of a band at the height of their creative power, an artistic muscle that had been trained for many years and that's now flexing to awe-inspiring force. The comic-esque artwork by brazilian graphic artist Bruno Biazotto already gives a clear hint at the journey the band is about to undertake with their music but now let's look at some details. With founding member Wolfgang Schlögl gone , the three remaining core members Wolfgang Frisch, Markus Kienzl and Michael Holzgruber now state Mani Obeya, their permanent vocalist since the red, self-titled album, as a fixed member and his elegant and tender but also athletic voice graces, as usual, almost all of the tracks of the album. On two tracks the fantastic Soulcat E-Phife is introduced, a new and mostly welcome addition to the viennese music-scene, born in the dominican republic and making no prisoners with her performance somewhere between Erykah Badu and Sarah Jones. "Woodys Ballad" features a very special guest and a very special and intimate performance as Mani Obeya duets with his daughter Issi Honi, lovingly uttering words between father and daughter.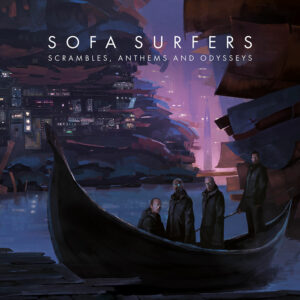 For avid fans of the band, the new album with it's fully electronic production, it's turning away from rock and moving into more dance-able styles will maybe at first come as a surprise, but I guess it will be a pleasant one. Everything that always made up the bands unique approach to music is there, but this time it sounds a bit different. It can be quite difficult for a band to alter their approach to their own style but with ""Scrambles …" the daring feat is made in an almost perfect way. Having seen this undertaking fail at so many occasions with other bands, it only proves once again that the Sofa Surfers are a truly unique outfit, a very singular bunch that cannot be underestimated as they make the most creative use of their rich past in music and create something completely new out of it but staying true to their school as well. Chapeau!
The album will be released on Oct 23rd as CD, 2LP and Download. Subscribers to the blankTON.abo will receive the CD on this date.
Your sincerely,
Mikka