The Comet is Coming – Trust In The Lifeforce Of The Deep Mystery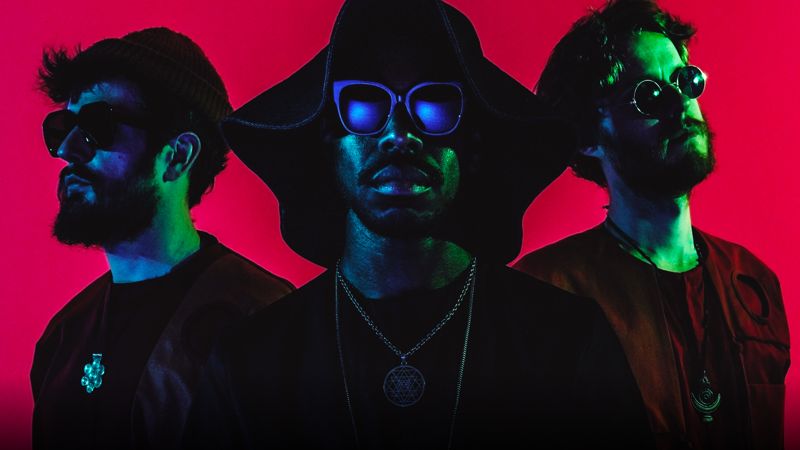 Our album of the month april is a visionary, yet retrogressive and progressive at the same time. Truly a work from outer space. And it is best described in the words the record label put together for it. And so here it is:
~ from the Impulse Records Website ~

In a world narrative dominated and controlled by powerful, wealthy individuals with vested interests in skewing the truth, what trust can be placed in our governments, our leaders and our sources of information to guide us to evolve as a species?
The great weapon is art.
As the second decade of the 21st century grinds towards its conclusion, it would be too easy to claim that on their second album Trust In The Life Force Of The Deep Mystery, the Mercury Music Prize-shortlisted futurist jazz voyagers The Comet Is Coming are making music for these crisis times of chaos and mass meltdown. After all, when hasn't this been the case? No. Instead theirs is a broader musical vision that pans out to see the bigger picture and reminds us we humans are but molecules collected into matter. In such moments of epiphany hope is to be found. Hope of mining deeper truths. Art is their medium and the message is in the music.
"There are going to be some massive shifts in our own lifetime as life begins to transcend biology," explains drummer Betamax. "Global warming, A.I., trips to Mars, brain-computer fusion. We are becoming cyborgs, so let's at least find some essential truths and inner peace so we can make wise decisions."
The Comet Is Coming are here to apply a salve to the wounds of the world and offer succour to the spiritually deprived. To do so they have delved deep into their collective subconscious during months of studio experimentation to bring back these souvenirs of astral and auditory travel. "If we place art as the honest unfolding of the imagination," elaborates keyboardist Danalogue, "and the imagination as being analogous to the source of all universal creativity, in creating this album we are presenting our truths, as individuals and as a collective, that contain symbols and narratives of their own."
Their findings on their psychedelic odyssey can be condensed into some simple philosophies. The Life Force Of The Deep Mystery, the band say, concerns "finding meaning in that which you cannot grasp", it considers "truth in the existence of a primordial energy". It asks "What does it mean to be human?"
Consider if you will the titles of some of the trio's new pieces: 'Because The End Is Really The Beginning', 'Birth Of Creation', 'The Universe Wakes Up' and 'Unity'. This is music that bridges the chasms that separate us, takes us away from the trappings of ego and brings us back into being via creation myths and the inception of life itself. Their arsenal: drums, synthesizers and saxophones alone. Explains saxophonist King Shabaka: "We are able to catch glimpses of this lifeforce energy during our music-induced trances, and in doing so can contemplate our position as a human species in the context of the vastness of space and the epic scale of its workings."
It's all captured in the trio's primordial stew of bass squelches and electro flourishes that shimmer and sparkle like showers of dying stars. It's evident too in the metronomic clatter of percussion that somehow captures the passing of infinite time itself. And it's there in the celestial sax tones of King Shabaka Hutchings, a player capable of producing sounds that transcend the physical realm to send the listener soaring off across astral planes to bathe in neon seas of tranquillity.
Listen to the pulsing 'Blood Of The Past', on which guest vocalist Kate Tempest delivers a state-of-the-universe address that somehow simultaneously summons the spirits of William Blake, Ian Dury,
Carl Sagan and Stephen Hawking, all with wide-eyed awestruck wonder, or 'Summon The Fire' which initially throbs like luminescent larval rivers of smoking magma as they creep across the earth's crust, scorching everything in sight, before accelerating into perhaps their most accessible, air-punching moment to date. The trio are nothing short of alchemists, endless concocting heady new brews from the raw ingredients of taut beats, sub-bass, slamming analogue and unhinged sax breaks.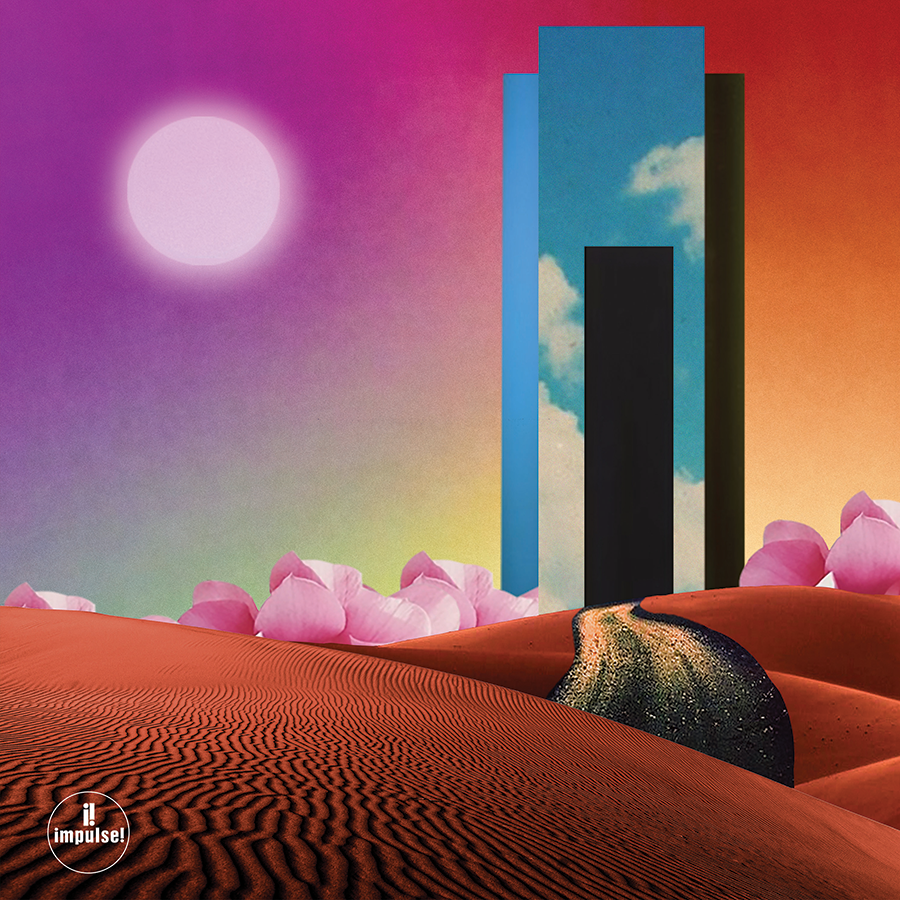 The Comet Is Coming formed in London in 2013 when the tall, "shadowy figure" of Shabaka appeared stage-side during show by Danalogue and Betamax's formidable drums and synths duo Soccer96, sax in hand. Exploratory jams were immediately undertaken. Visions were experienced, dreams born. A member of Sons of Kemet and Shabaka and the Ancestors, Shabaka was already the MOBO-winning leading light of the contemporary British jazz scene. Make no mistake though, The Coming Are Coming are a three-headed beast, with all music co-written, and Danalogue and Betamax mixing and producing the record.
"There is an incredible amount of historical evidence that suggests the control of a single leader leads to corruption and is not to the benefit of the community," says Danalogue. "There is a trust we have in each other – to do what is best for the group."
Discovering a shared love for Sun Ra, Hendrix, Can, the LA beat scene, Mahavishnu Orchestra and Death Grips and named after a beloved BBC Radiophonic piece that they found in a vinyl library, the trio hit the studio immediately to record hours of music that would comprise the EP Prophecy (2015) and debut album Channel The Spirits (2016) plus Death to the Planet released on Record Store Day (2017). A helter-skelter ride down worm-holes to splash through far-flung topographical oceans and scaling celestial peaks, Channel… took in freak-out space funk, freewheeling psychedelia and jazz punk mayhem all the way. It was shortlisted for the 2016 Mercury Music Prize.
A plethora of other projects – production, collaborations and commissions – were then pursued, with a prolific array of releases coming out of Danalogue's studio from the likes of Snapped Ankles, Flamingods and Alabaster Deplume. The trio then reconvened to record The Lifeforce Of The Deep Mystery at Total Refreshment Centre in Stoke Newington, a social centre that hosts gigs, studios, workshops and exhibition space, and which is central to London's thriving jazz (and so much more) scene. Their hours of improvisation were committed to ½ inch tape, while guest vocalist Kate Tempest joined them after they made an approach to collaborate at the Mercurys. Tempest replied she would "speak galactic and shoot for the stars."
"Fire, honesty, passion and, to a certain degree, rage – Kate embodies all of those things," says Danalogue. "She's a fearless voice speaking the truths that others are afraid to mention. So in that way I think we are all connected."
Asked to describe their second album the trio collectively offer a litany of adjectives: epic, ego-dissolving, euphoric, empowering, liberation, compassionate, nurturing, optimistic, nuanced, emboldening, nourishing, joyous, exciting…and transcendent. "Rather than begin a reaction, it's a celebration," concludes Shabaka. "It's an acknowledgment, in the midst of all the darkness we see, of those who trust in the power of imagination."
It would be hard to disagree. Because now The Comet Is Coming are going further, wider, deeper…more, more, more. They are here to destroy artifice and illusion. To illuminate the now and beam a light of truth into the shadowy corners of all mankind. Let go of all that you thought and surrender to their truth.
The Comet Is Coming are: Danalogue (keyboards/electronics), Betamax (drums) and King Shabaka (saxophone).