out now: 1000 Flames – Synchronized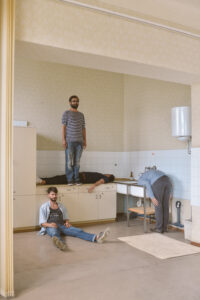 Drums. Bass. Guitars. On the top of that a weak spot for delicate and often surprising arrangements – that's how the approach of the new Vienna-based four-piece-band 1000 FLAMES is best described. Subtly crafted rhythms are the basis of their songs on which they build soundscapes that can be fragile and delicate, or enthusiastically raw and brute, bearing results that oscillate between indie and electronica.
Influences range from the more adventurous pop of the 80ies (think Depeche Mode or Talking Heads), hiphop and industrial right up to contemporary electronica by the likes of Moderat. And of course, Radiohead and The Bad Seeds will always occupy a very special place in the hearts of the band-members and no name-dropping exercise is complete without them.
The lyrics are stitched together from fragments of personal experience and tropes from popular culture, usually in the form science fiction novels.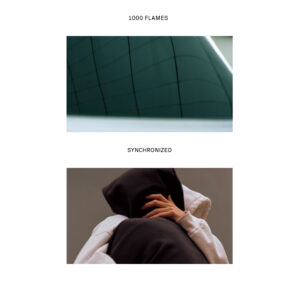 This album is loosely inspired by E.M. Foster's "The Machine Stops", a short story published back in 1909 in which a man-made machine is taking care of the needs of the human population. A whole civilization has become completely dependent of the machine and worships it like a godlike entity. By the time the story takes place people have forgotten that they themselves created the machine and are completely lost in the comforts it provides. As the machine slowly starts to malfunction and eventually breaks down, also the civilization almost ceases to exist. But Foster leaves us with some hope in the end as the main actor seemingly finds a way to survive outside the machine. In fact, all it takes is just one beautiful idea that is entirely his own.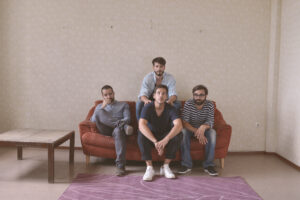 Lead-Singer Markus Stingl: "All the songs have a very personal background but we didn't want to record a melodramatic album and that's why we choose to have continuous motifs throughout the songs. Forsters' "The Machine Stops" has been a common source of inspiration but also, as mentioned, very personal experiences. During the terrorist attack in Istanbul in march 2016, my girlfriend stayed there, near the spot of the events. I was terrified as it took some time until I finally could reach her on the phone and get to know that she was safe. The impression of those moments and the feeling of sheer agony made me produce the lyrics for the song "Istanbul", but not only from my personal feeling – I also tried to put it in a context of society as a whole."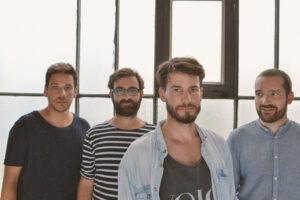 Thom Carl explains the production: "The album is also a kind discussion or dispute among four friends that lasted over 7 years. It's very personal and if reflects our personalities, that's why it it has such love for detail, but can also be quite brute in places. It's coherent, but also contradictory. But we like it like that and it gives a feeling of richness in texture and structure."
"We also used a lot of found sound, which I collected on my travels to Peru, Japan and Ethiopia. I think it definitely enriches the whole body of sound we produce on "Synchronized"" comments Armin, Drummer and Sound-Mastermind of 1000 Flames.
"Synchronized" is the debut album of 1000 FLAMES and is to be released on march 16th 2018 via blankTON recordings on CD, LP and digital download and streaming

For a brief prelistening please follow this link:
https://soundcloud.com/user-450074048/sets/synchronized-preview/s-ph3af
Armin Koch – Schlagzeug, Sounddesign
Markus Stingl – Gesang, Gitarre
Thom Carl – Bass
Tobias Zotter – Gesang, Gitarre
the tracks:
01 try to sleep
02 istanbul
03 what we found
04 lost in comfort
05 the machine stops
06 half awake
07 breathe
08 waiting for
09 slowly (CD and digital only, not on LP)
10 i say (CD and digital only, not on LP)
11 driving home (CD and digital only, not on LP)
12 a beautiful idea (CD and digital only, not on LP)