out now: Collapsing New People – Dysfunctional Robots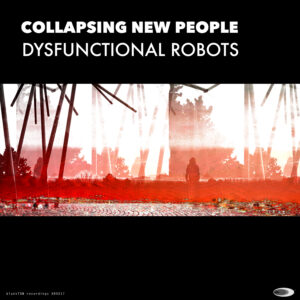 We're so unusable
Proudly dysfunctional
We are beyond repair
that's what we like
We are dysfunctional robots on strike
Almost 6 years after their last album, the legendary elektro-synth-pop-punk-band COLLAPSING NEW PEOPLE is back with their new album "Dysfunctional Robots" – maybe their finest work to date. "Dysfunctional Robots" roams the fields of synth-pop more than its predecessors which were deeply rooted in so-called elektro-punk, but it's always energetic and urging – all in all a consolidating look back and a bold look forward at the same time.
I'm worth nothing without a number
so please help me  and grade me!
I have no value without assessment
so won't you please rate me!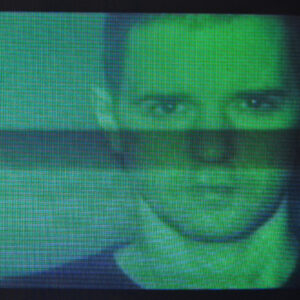 Main motif of the album is the man-machine-interface or how man is altered as an effect of the increasing digitalisation of everyday life. The processes and logics of ratings in social media, recruitment-platforms and the alarming plans for the extensive monitoring of the Chinese population leads to a vision of devaluation, when there's no one to rate you in "Rate Me", one of the centrepieces of the album. Hence "Nosedive", an episode of the anthology-TV-series "Black Mirror".
No useless emotions in your digital brain
let me melt with your body oh pretty machine
"Pretty Machine" and "Robot Girl" take a closer and quite cheeky look into a more or less near future, when the possibilities of artificial companions bear quite prosaic dangers – apart from alienation, isolation and emotional degeneration.
Songs like "Taktfrequenz", "Strom", "Play" and "Digital" circle around human life in a digital world and how the euphorically hailed digital revolution is embraced, seemingly without a moment of thought about the consequences. The digital comfort-zone becomes a gloomy abyss with no chance to escape.
But there is also light at the end of the tunnel. The title-track sings its praise to the "Dysfunctional Robots", the ones that refuse to function. And these robots aren't the artificial machines one might imagine, but the digitalised humans, that only seemingly aren't able to live without digital assistance. And guess what, they're breaking free.
Those dystopian themes are embedded in sweet, minimalistic synth-pop-melodies and -beats, often breezy and apparently innocent and pleasing – only pretending to contradict the heavy messages of the lyrics but in reality reflecting the flattering and cushy ways that the galloping digitalisation penetrates everyday human life and will change it forever, in incalculable forms.  At least as long as we got "Strom"!
"Dysfunctional Robots" will be released on june 13th worldwide via blankTON recordings as stream, download and limited edition CD with digisleeve-cover.
Prelisten & buy:
About the band:
Collapsing New People is an Austrian electropop-band founded in 2002 by Cy, Didi Disko and Loona Cox in Vienna. Since the beginning, they had been a constant force in the European synthpop- and elektropunk-scene, especially embraced for their energetic live sets and uncompromising musical style.
The bands eventful history is rich in praise from media and various audiences, their influences range from postpunk and new wave to funk and electro to synthpop and experimental music. Their first album "Concrete View" was recorded and published in full-on do-it-yourself-mode. After a few hit singles like "Revolution Girl", "Regressive Attack" and "Collapse Collide Capitulate", their second album "Collapsing New World" (2005) and some changes in the line up, the band played some remarkable live gigs like headlining the Fake-festival in Nancy in 2006, playing New York City and Budapest in 2009 and the Big Brother Awards in Vienna in 2011. With their third album "Crash Test Junkie" in 2012 (Klanggalerie), the band underwent a consequent development towards electropop but also included elements of funk, triphop and contemporary electronica. Thematic influences ranged from Dada, Art Brut, Film Noir and Science Fiction while a lot of the songs also dealt with personal and socio-critical issues. The music of Collapsing New People has also always been an inspiration for artists of various fields and were also frequently used as soundtracks for political documentaries.