Bernd Ammann – Descending
Bernd Ammann, born 1985 in Bregenz, works as a film- and media-composer in Vienna and "Descending" is this first work as a solo-artist. He started playing trumpet at the age of 6, soon followed by the bass, and studied the latter at the Vienna Music Institute and the University of Music and Performing Arts Vienna. During his studies, he also found interest in electronic music production and collaborated with a lot of artists for various projects in Austria as well as all over Europe.
On "Descending", Ammann combines a wide range of instruments and influences into atmospheric pieces of an aerial, yet grounded quality. Lead by the lines of his bass, soundscapes full of rich textures are formed that sound familiar, but also exotic. The tracks are intricate and subtle, transparent and breezy and at places carry the feel of being the soundtrack to a dream. Integrating bass, oud, trumpet, beatboxing, jazz, techno and many things more without losing focus or direction – or sounding too dense – this album is an impressive piece of work – in a silent way.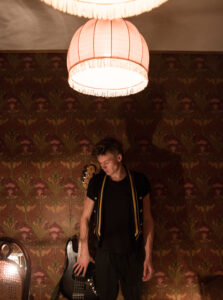 "Descending" is a compelling and completely original piece of work. It's not ambient, it's not IDM, it's not ethno-crossover-jazz-techno-experimental-whatever and definitely not something else.  It's a work of art in it's own right – a truly applaudable and fresh new style is shown here, that acts out it's revolution in a very unintrusive and discreet way. An absolute recommendation and we are happy to have this as our album of the month in the blankTON.abo.
Yours sincerely,
Mikka
https://www.facebook.com/pg/BerndAmmann/
~ pictures, artwork and videos by Uli Frei – http://ulifrey.net