Mikka Blank – Inbetween States EP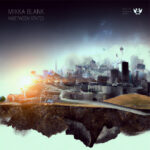 And now for something new: The tracks on the new Mikka Blank-EP "Inbetween States" were created after the completion of the Interzone sessions in 2014. These older tracks incorporate musical motives I found on the web, but unfortunately, the origin of these samples remains unknown as I just forgot where exactly I found them.
"Inbetween State" features a beautiful melody played on a Hang and the motif at the centre of "Streets Of I" was most likely played on a Persian instrument such as a tar or sitar – both elements were heavily treated with effects but still remain true to their original form. "Chronopolis" was originally constructed as a layout for a remix but somehow it just didn't work out, but I still like the instrumental with its otherworldly and somehow unfinished feel.
All these tracks did not quite fit the brooding and dark mood of the Interzone tracks, and I also hesitated to release them due to the already mentioned unknown origins of some samples. However, after playing those tracks to friends who encouraged me to release them, I decided to do it anyway. Perhaps by releasing the tracks, we may even discover the original creators of these motifs and share the fame, if any occurs,  and of course the recognition they deserve. so Of course, the tracks come in new mixes and masters for 2023.
This EP includes two versions of "Inbetween States," with a shorter variant in addition to the original ten-minute version. Here also included is "Into The Void" from the "Eight Year blankTON recordings" compilation, which will be omitted from the Spotify-release, as the track is already available there …
The artwork for this release has been created with the support of Dall-E artificial intelligence. I do prefer art by beings of natural intelligence but I found it fun and interesting to try out those new forms of creating art.
Anyway, I hope you can enjoy this new EP,
Yours sincerely,
Mikka